Get a head-start on capital planning with IDS
As we head from Q2 into Q3, now is the time for many to begin planning and finalizing budgets for the next year. This includes facilities managers assessing property conditions to see if renovations are needed.
For many facilities managers, this can be an overwhelming process. The amount of information needed to manage dozens of properties is significant. This includes photos, floorplans, and asset lists from different sources and in different formats.
Packaging this information for budget approval and sharing it with those that will be doing the work is also challenging. The root of the problem isn't usually the time it takes to collect this information, but packaging it in a way that illustrates the needs of each property.
Ideally, facilities managers would travel to each location in person. There are often too many locations and not enough people, time, or money to do so.
But what if you could combine all visuals and data from your properties in one place? What if that place gave you first-person views of every location with access to every relevant document without leaving your desk?
IDS works with business owners and facilities managers to make this a reality. Our proprietary visualization platform helps manage capital projects, property acquisitions, and new build projects. Our technology combines data from photos, floorplans, and asset lists in an immersive visual experience.
Here's how we do it in three simple steps.
Step 1: Capture
We start by gathering everything you need from your sites. This includes floorplans, site plans, inspections, and photos. Our team uses drones, scanning technology, and high-definition cameras to capture this in a fraction of the time and cost of other resources. You no longer need to hire separate companies to do a flyover, create CAD plans, and perform inspections.
Step 2: Explore
Next we help you combine this information in our proprietary platform that gives you a first-person view of every property. This is where you can layer on mapping, plans, inspections, 360 photos and virtual tours, thermal imagery, and more.
You no longer need to search through files for a certain photo or asset. We put everything at your fingertips to access from your desk. You can also share information by sending a link to any location within your property.
Step 3: Inform
The IDS platform makes it easy to turn imagery and data into customizable reports you can share with stakeholders. In a few clicks, you can export reports that give you and leadership everything you need to make informed decisions.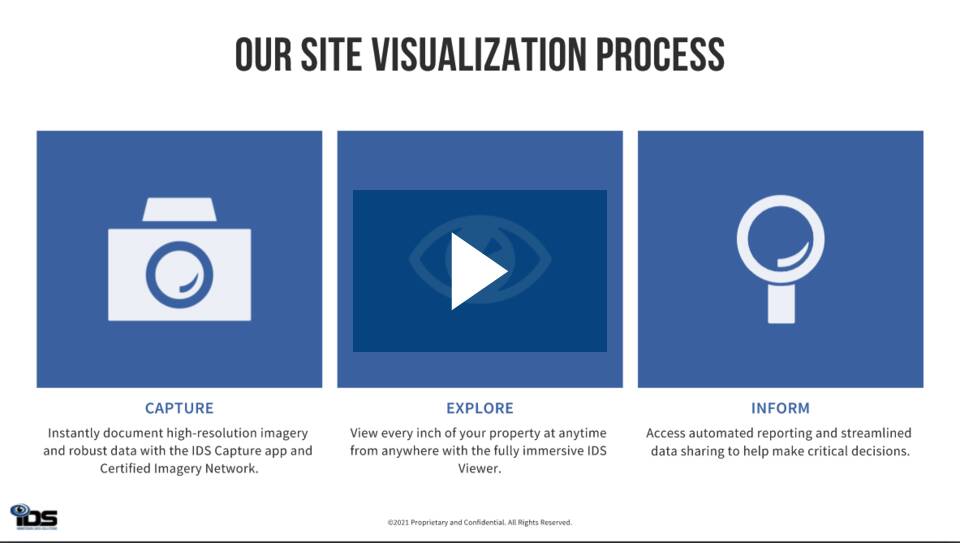 Our 3 Step Process - Actionable Imagery
Streamline capital planning with help from IDS
The IDS platform helps businesses spend less time and money collecting property information, building reports, and making decisions. We're here so you can move faster and drive increased growth.
Whether capturing high-quality imagery with the IDS Capture app, accessing virtual environments in IDS Viewer, or creating and sharing custom reports with the IDS Report Builder, our platform has everything you need to track and maintain your facilities in one virtual location.
Contact us today to get started.
Oops! We could not locate your form.